As part of our continuing effort to increasing the reach, frequency, range and effectiveness of programming and interaction among our Fellows, the Academy has developed an e-conferencing and video-conferencing platform for live virtual meetings, presentations and panel discussions of up to 30 participants, which are recorded and hosted on our website for viewing and discussion by Fellows and the general public. The first three webcasts were conducted in November as part of the Global Employment Challenge e-conference. Fellows interested in more information on WAAS web-conferencing facilities can contact admin@worldacademy.org.
INCLUSIVE GROWTH THROUGH FULL EMPLOYMENT – by Jesus Felipe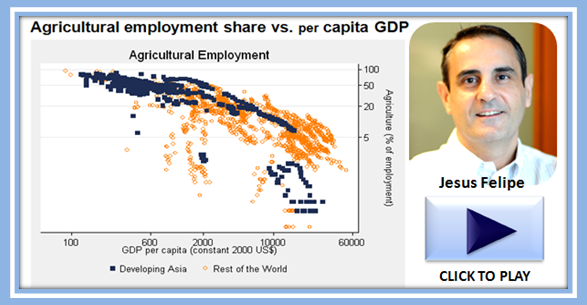 Full employment is an essential characteristic of inclusive growth. It is the most direct way to improve the well-being of the people, especially the most disadvantaged. In this webcast, Jesus Felipe examines the recent experience of fast growing Asian countries and explain why full employment is both necessary and possible for nations committed to an equitable model of economic growth.
Jesus Felipe is the author of Inclusive Growth, Full Employment and Structural Change. Implications and Policies for Developing Asia (2009). He is Principal Economist, Head of the Strategic Research Unit, and Director of the Central Asia Regional Economic Cooperation (CAREC) Institute, in the Central and West Asia Department of the Asian Development Bank (ADB), Manila, Philippines. He is also a Research Associate at Australian National University, Cambridge University, University of Missouri-Kansas City and University of Newcastle (Aust).
Jesus Felipe Bio
Listen to Webcast (audio only)
Download Presentation slides for the webcast
---
EMPLOYMENT GUARANTEE POLICIES: Contributing to Pro-Poor Development, Promoting Gender Equality – By Rania Antonopoulos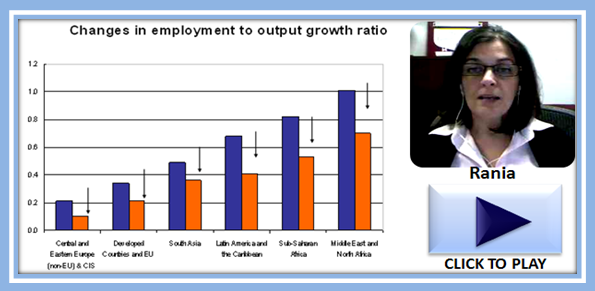 Beyond loss of income, joblessness is associated with greater poverty, marginalization, and social exclusion; the current global crisis is clearly not helping. Rania Antonopoulos advocates public employment as a policy instrument, with particular attention to policies that address female poverty. In this webcast she discusses South Africa's Expanded Public Works Programme, addressing issues related to income and job generation, provisioning of communities' unmet needs, skill enhancement for a new cadre of workers, and promotion of gender equality by addressing the overtaxed time of women. Rania Antonopoulos is Director of the 'Gender Equality and the Economy' program at the Levy Economics Institute of Bard College (USA), an expert advisor to UNDP and co-director of two global networks, the Gender Macroeconomics and International Economics (GEM-IWG) and the Economists for full Employment (EFE). Her most recent publications include an ILO monograph, The Unpaid Work, Paid Work Connection.
Rania Antonopoulos Bio
Listen to the Webcast (audio only)
Download Presentation Slides for the webcast
---
FULL EMPLOYMENT & EMPLOYMENT GUARANTEES – By Randall Wray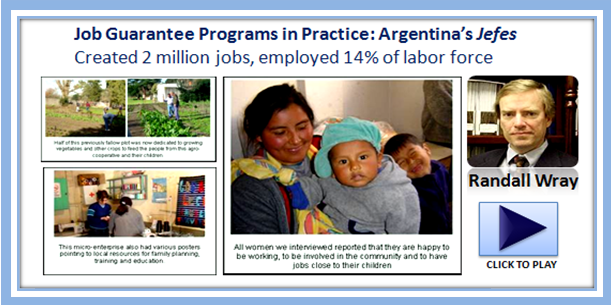 Economic stimulus packages can never satisfactorily address the real problem of unemployment and underemployment in market economies, according to Randall L. Wray. He estimates real unemployment is close to 30 million people or 20% of the workforce in the USA. But there is an effective and affordable to achieve full employment through direct job creation programs financed by the US Government. In this webcast, Professor Wray discusses the short and long term causes of unemployment, the right to employment, the hidden costs of unemployment, the unrecognized benefits of full employment, theory of how job guarantee programs can effectively balance full employment and currency stability along with practical examples of successful programs. This presentation will be of interest to all those looking for a realistic practical strategy for addressing the problem of unemployment. Wray is Professor of Economics and Research Director of the Center for Full Employment and Price Stability at the University of Missouri–Kansas City and Senior Scholar at the Levy Economics Institute of Bard College in New York. He is author of numerous books including Money and Credit in Capitalist Economies and Understanding Modern Money: The Key to Full Employment and Price Stability. For a complete bio and list of Professor Wray's publications and links to working papers, click here
Download Presentation Slides for the webcast
---
THE BLUE ECONOMY – By Gunter Pauli
100 innovations – 100 Million Jobs – 10 Years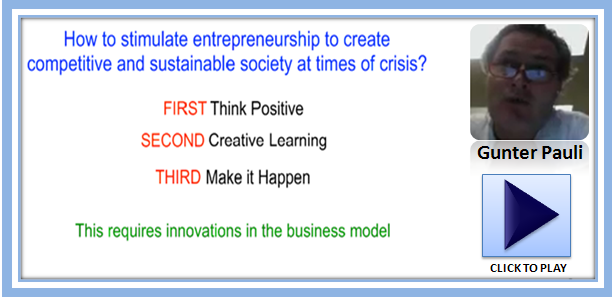 Entrepreneurship and innovation are the real source of natural job growth in any economy. During four years of research Gunter Pauli has identified a portfolio of 100 innovations including whole systems models that have the potential to generate as many as 100 million jobs worldwide over the next 10 years. Pauli's ideas do not require government bailout or add to the world's ecological burden. Rather he speaks of business models shift that build social capital and generate higher levels of competitiveness and sustainability, while requiring less investment and more revenues. Based on processes that cascade nutrients and energy the way nature does, he envisions a Blue Economy that opens possibilities for a new generation of entrepreneurs who use what is available to sustainably address the needs of the Earth and all its citizens. A Fellow of the Academy and Member of the Club of Rome, Pauli is an entrepreneur who has founded 10 companies pioneering environmentally friendly technologies. Gunter Pauli bio
Download Presentation Slides for the webcast
Listen to webcast (audio-only)
---
INNOVATIVE STRATEGIES FOR FINANCING FULL EMPLOYMENT – By Bernard Lietaer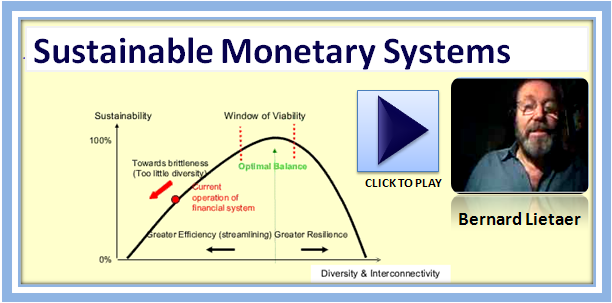 Full employment can be achieved by implementing practical methods already applied in countries such as Switzerland, Uruguay and Brazil. This two-hour seminar will explore the role of complementary currencies and other monetary innovations that can be applied to generate employment at the local and national level by governments and NGOs. Bernard Lietaer is a Fellow of the Academy, Research Fellow at UC Berkeley and financial consultant with more than 25 years experience working on innovations in money systems. He has served as co-designer of the convergence mechanism that created the Euro, President of Belgium's Electronic Payments System, general manager and currency trader for the world's most successful currency fund. He is the author of 14 books, including Future of Money, translated in 18 languages. Bernard Lietaer bio